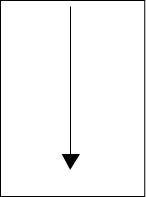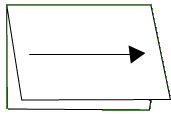 First, fold paper in half (8-1/2" side to 8-1/2" side). Then fold the other way to create a card (see illustration). Get some green paint onto brush and then first paint on scrap piece of paper to get rid of excess paint (you want a nice light effect). Then dabbing up and down (alot like painting stencils) create your basic shape.

For the wreath: create a circle. You may have to go over your basic shape a few times to get the right look. For the Christmas tree: create three triangles overlapping each other. And for the border, just dab all around the outside edge of card. Let dry.

Next add decorations. With glitter pen or glue and loose glitter create berries, bows, and ornaments. Or, with a fresh, clean brush dab a light layer of glue (dab on scrap sheet a few times first to get rid of excess) and sprinkle white or crystal glitter to create a sparkly, snowy look. For the pine branch make the snow on just the top side of each branch piece. For the christmas tree create an overall snowy look.