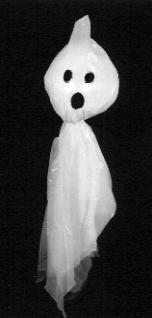 You Need:

- large white garbage bag
- permanent black marker
- newspaper
- strong string



Craft:
Stuff one corner of a large white garbage bag with crumpled newspaper to form a head. Twist shut,folding other corner down and secure with string. Draw a face on the ghost with permanent markers. Let face dry. Cut bottom part of bag into 3-4" wide strips. Attach string to top of head with wide tape; knotting string so it doesn't pull out. Make lots and hang them indoors or out.

*Parents please note: please be careful of plastic bags around small children. No one should ever put a plastic bag over their own or anyone else's head or use this craft as a "costume" .